Wine And Sailing Tour In Croatia
https://www.4mesailing.com/our-boat/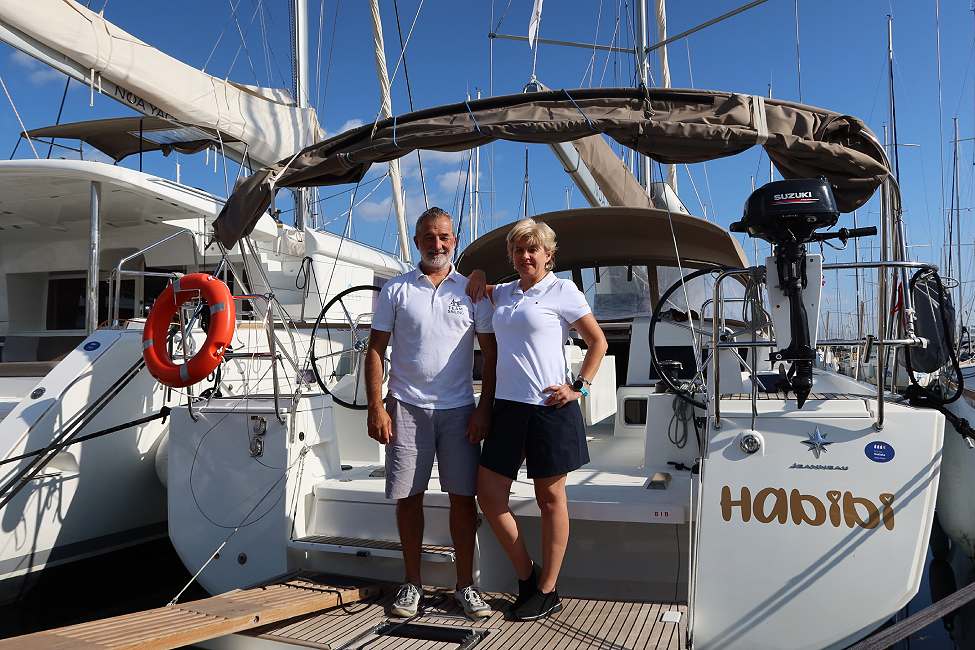 Join a community of inspiring people, and get headspace on our Habibi.
Let's sail away and discover the hidden wineries of Croatia.
Think as many cellar door tastings, farm to table lunches, and vineyard tours
you can muster across a 7-day sailing vacation!
Recommended Wine Tour*
*Depends on the weather and other objective conditions, the plan can be modified
Check-in – Marina Kastela
If you arrive earlier than check in time (5:00 pm), check out the beautiful Old Town of Split, located a short stroll away. Split is well known for its stunning
Diocletian's Palace, a 4th Century structure created by the Roman emperor Diocletian.
This is also a good time to speak with your Skipper about the wineries you'd like to visit throughout the week so that they can call ahead and book you in.
All wine experiences are completely optional, and can be paid directly.
Day 1 – Solta
It's time to set sail! We'll leave Marina Kastela behind and head to one of the closest islands to the mainland, Solta. Solta remains relatively untouched, in
spite of its close proximity to Split, offering a picturesque and authentic destination for the first night of your vacation! What better way to set the tone of the week than to head to a local winery for a wine tasting, before having dining at a waterfront restaurant in the small village of Maslinica.
Optional Winery Visit: Agroturizam Kaštelanac
It doesn't come more authentic than Agroturizam Kaštelanac. This family owned and operated winery produces wine from vines dating back to 1762!
Producing mostly Dobričić, a wine variety indigenous to Dalmatia, and awardwinning olive oils, this gastro experience is one not to be missed. Choose
between a traditional wine tasting, wine & olive tasting, or a degustation showcasing local produce and flavours paired with wine.
Flagship Wine: Dobričić (red)
Day 2 – Vis
Early this morning we'll sail toward the island of Vis and arrive at this charming and elegant island in the afternoon. The most outlying island in Dalmatia is mostly known for its military background (it was a strategic military post in IIWW), traditional way of life, and stunning natural phenomena; the Blue Caves.
Vis was once known as the "Forbidden Island" and was off limits to foreigners until 1992. Today, the island has an exciting military history with plenty of
defenses and bunkers to discover and is growing into a vibrant tourist destination. A benefit of the lack of tourism until 20 years ago, is that a traditional way of life has been maintained, providing an interesting insight into authentic Croatia, preserved buildings and a thriving fishing community.
Optional Winery Visit: Lipanovic Winery / Vislander Winery
With two unique wineries to choose from on Vis island, guests are spoilt for choice when it comes to wine tasting!
Lipanovic Winery has been operating for over 150 years, and no visit is complete without a tour of the Wine Cellar, which is housed in a World War II military tunnel – ideal conditions for preserving and drinking wine! Guests have the option of a tasting in the vineyard, Wine Cellar tour, or a farm to table tasting experience of local Dalmatian delicacies.
Vislander Winery celebrates the history and perfect wine growing conditions of Vis island, with its wine production being heavily steeped in tradition. This
impressive winery produces Plavac Mali that packs a punch and is just waiting to be tasted!
Flagship Wines: Plavac Mali (red) and Vugava (white)
Day 3 – Hvar
With coffee in hand, we'll set sail to the sunniest island in the Mediterranean, Hvar. Famous for its wine and lavender production, sun-soaked days, cobbled
streets, and buzzing, vibrant nightlife, Hvar never disappoints.
Climb the Spanjola Fortress and get snap-happy with the iconic view over Hvar, or relax at one of the waterfront cafes before exploring the labyrinth of
narrow streets. Unofficially, Hvar is named the 'Island of Wine', so it's no surprise that there are plenty of wineries for you to visit! Spend the afternoon exploring ancient vineyards and tasting the many indigenous grape varieties on offer.
Optional Winery Visit: Tomic, Dubokovic, Bojanic and Zlatan otok
With so many impressive wineries on the island of Hvar, you simply can't stop at one! Speak with your skipper about creating a tailor-made wine tour,
complete with transfers and a driver, allowing you to visit as many as four wineries in one day!
Flagship Wines: Pošip (white) Bogdanuša (white) and Plavac Mali (red)
Day 4 – Stari Grad
Today we'll sail to Hvar Island and overnight in Stari Grad – Hvar's second largest settlement and one of the oldest towns in Europe.
Stari Grad is steeped in history (the name Stari Grad even translates to 'Old Town'), and is today an up-and-coming travel destination. You can explore Stari Grad on foot and take in its network of cobblestone streets, small squares and boutique galleries. Our top recommendation is to head to Hora Winery in the afternoon for a foodie experience with heart!
Optional Winery Visit: Hora Winery
Hora Winery is situated on the UNESCO protected Stari Grad Plain, which, in itself, makes for a stunning backdrop for a wine tasting! Add in an abundance
of organic produce growing in the fields, friendly donkeys and the charming family who own and operate the winery, and you may never want to leave!
Indulge in local lamb peka and taste the series of delicious wines on offer.
This experience will stay with you for a lifetime!
Flagship Wines: Bogdanuša (white), Posip (white), and Plavac Mali (red)
Day 5 – Bol
This morning we'll leave Stari Grad behind and sail across to the nearby island of Brac, the largest island in Dalmatia. Brac offers many anchorages to choose
from, including the bustling town of Bol, where you can visit the popular Golden Horn beach, the peaceful and picturesque village of Bobovisca and the town of Pučišća, famous for its stonemasonry. Choose the anchorage that best suits your style, and get ready to explore the island's wineries in the afternoon!
Optional Winery Visit: Stina Winery
Arguably one of the most famous wineries in Dalmatia, Stina Winery is the perfect spot to try Dalmatian wine with a view! Situated right on the waterfront in Bol, there's no better spot to bask in the sun and sip on award Dalmatian winning wines. Stina Winery was built in 1903, however the tasting experience is anything but ancient. Guests are able to enjoy samples of the winery's top drops in its modern cellar door, including the indigenous varieties of Pošip, Plavac Mali and Vugava. Enjoy wine by the glass, take part in a tasting or explore the surroundings on a winery tour.
Flagship Wines: Pošip (white), Prosek (white/red), Vugava (white) and Plavac Mali (red)
Day 6 – Marina Kastela
Round off your week with a leisurely sail back to Marina Kastela. If you would like to celebrate the last night of your sailing experience, you couldn't be in a
better place! If you're not quite ready to stop the wine tasting experience, Kastela has no shortage of impressive wine bars within the palace walls, all serving local and imported wines.
Day 7 – Marina Kastela
Rise and shine! It's time to check out from your yacht by 9:00am, and say goodbye to your hosts, leaving with lifelong memories and an abundance of wine knowledge!
Price
Full boat at €4.900, Double cabin from €1.630 (€815 per person sharing), €1.250 for single use.
Additional cost
A forfeited amount of €230/pers for the APA (Advance Provision Allowance) for food, drink, fuel and marina & port – to be paid in cash on arrival.
Optional
Every wine and olive oil testing are optional and are separately paid.
Reservation for the testing's should be made on time.
Payment terms
To guarantee your reservation, a deposit of 50% of the total price is required upon confirmation of your reservation.
The balance of the payment is due 30 days before your arrival.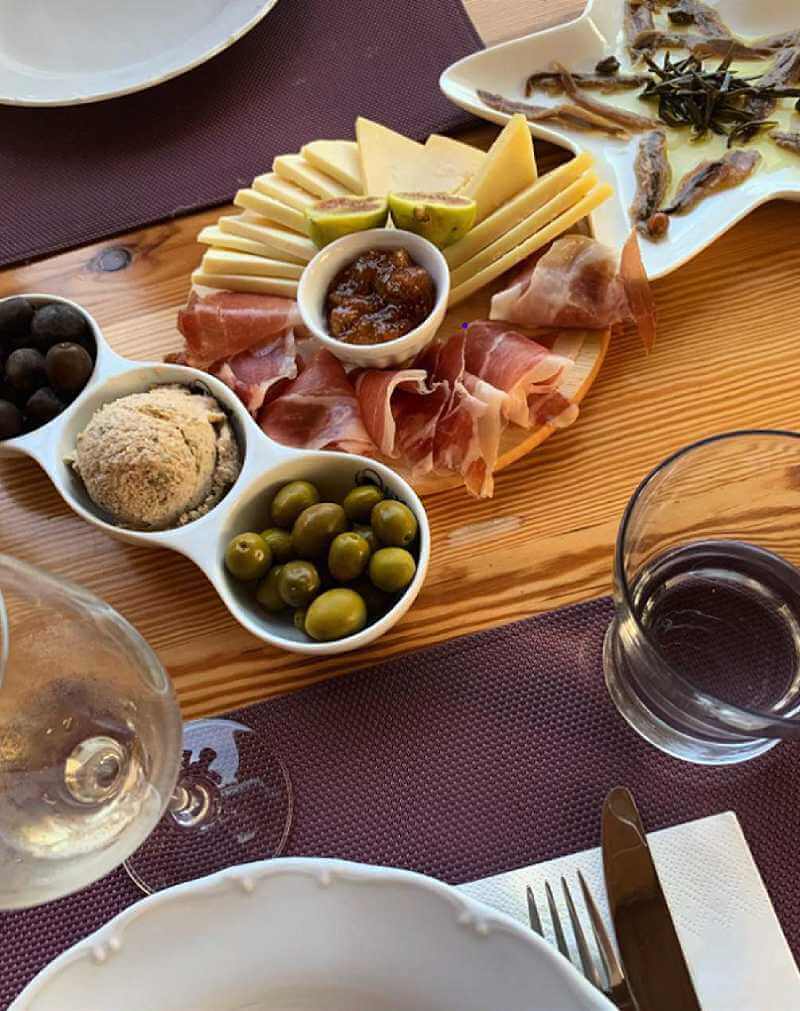 HIGHLIGHTS
❤ small group (max. 6 guests)
❤ Hidden bays and crystal-clear water
❤ Waking up in different spots every day
❤ Meeting like-minded people: "Come as strangers, leave as friends."
❤ Sunbathing on deck, relaxing, enjoying headspace
❤ A sky full of stars, a lot of nature & vitamin sea
❤ Wine and Olive oil testing
❤ Learn some sailing skills
❤ Dolphin spotting (if we are lucky)
INCLUDED
✓ Skipper and Co-Skipper
✓ 7 nights on board the luxury sailing yacht (cabins with twin beds)
✓ Practice and learning to sail for those who are interested
✓ Use of equipment on board: dinghy to reach land, stand-up-paddle and snorkeling equipment
✓ Sheets and towels
✓ Water, Tea, Coffee
✓ Team-cooking
NOT INCLUDED
✘ Travel cost to/from the marina (Split area, Croatia)
✘ 6x Breakfast & Lunch on board prepared by all and funded by the APA (Advance Provision Allowance)
✘ Wine and Olive oil testing (optional)
✘ All personal expenses ashore
✘ All fees (harbor dues, docking fees, permits, tourist tax) funded by the APA (Advance Provision Allowance)